This week is Infant Mental Health (IMH) Awareness Week, which was created to promote awareness of the importance of IMH and early relationships for all babies. Early relationships are crucial for the development of a baby's brain and have a large impact on an infant's mental health and relationships throughout their life. Babies are born into the world with the ability to form attachments to their caregivers. In fact, they rely on this attachment relationship for their physical and emotional safety. IMH is nurtured and supported within the relationship with their caregiver. A "good enough" caregiver notices their baby's cues and the needs that these cues signal and can respond to cues in an appropriate way, as seen in the above illustration.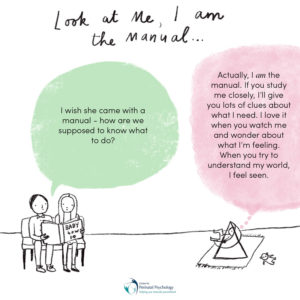 One important need that contributes to IMH is the need for a baby to have a caregiver be with them in their emotions. What this means is that when your baby experiences an emotion, you stay with them in that emotion rather than trying to distract or move them on. For example, when baby is distressed, you might tell them "I know it's hard but we'll get through this together". Talking to your baby like this lets them know their emotions are normal and valid and that you're there to help them manage. Eventually, infants internalise this message which contributes to their ability to regulate emotions on their own. When caregivers are facing their own challenges, it can be difficult for them to be with their babies in their emotions. It can also be scary and overwhelming to think that you as a caregiver are so important to your infant and that your relationship is so crucial for their mental health. That is why it is so important that caregivers take time for themselves and reach out to others to support them. This is an invitation to take the time to reflect on your relationship with your infant and the many joys and difficulties that accompany it and to acknowledge how important you are to your baby.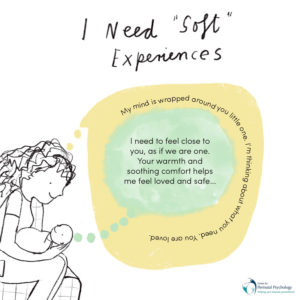 The drawings included in this article are from the Centre for Perinatal Psychology's "Speaking for the Baby" campaign, launched to coincide with IMH Awareness Week, and were illustrated by Jess Racklyeft. For more, please visit https://www.centreforperinatalpsychology.com.au/resources/speaking-for-the-baby-campaign/
If you are a caregiver with a baby or young children and you are struggling, you can call PANDA on 1300 726 306.