Parents of children and young people with mood disorders have a particular set of challenges on their hands. As parents, our instincts tell us to take care of our kids. We want to be there to protect them from harm and comfort them. We can't help but worry when our children are unwell.
Under most circumstances this comes easily to us: we have the capacity to 'be there' both physically and emotionally for our kids. But in some situations this may not be so easy to achieve. What if we're feeling exhausted physically? What if we feel stressed? What if we're emotionally drained from feeling sad or anxious ourselves?
Have a think about the pre-flight safety instructions that air-stewards demonstrate prior to takeoff. If the cabin loses pressure and the oxygen masks drop down from the compartments above the seats, we're instructed to put OUR masks on first before tending to the children. The simple message here is that in order to look after our kids we have to look after ourselves first.
Making Time For Your Own Well-Being
Take some time to go through a mental checklist of the ways that you look after yourself. Do you make time for hobbies? For other interests? For social events? For quiet relaxation? Do you get support from others? As a busy parent, you might be surprised and somewhat dismayed at how short your list is!
Why is it that as parents we often find it so hard to self-care? What gets in the way? Perhaps it's in part feeling time-poor, rushing around from one place to the next. It may also be because we've been so focused on looking after others for so long that we may not even remember what helps us to feel good.
Perhaps it is time now to start thinking about making some changes. Here are some survival tips that you may find helpful.
10 Tips for Stressed-out Parents
Rest, revive, survive! Take regular breaks for 'me-time' during the day. Try to avoid multi-tasking during these times. Instead, sit down and truly enjoy a cup of tea or a good book.
Watch your 'self-talk'. Try to talk to yourself as you would a close friend, with care and empathy. Replace the word 'should' with 'try'.
When you're feeling stressed and overwhelmed, get into the habit of asking yourself "what is the worst thing that could happen here? Often, the worst outcome isn't so bad.
Start a gratitude diary. Write down five things each day that you're thankful for.
Learn to relax - try yoga or meditation. Guided relaxation apps such as Smiling Mind, Calm and Headspace are great places to start.
Pursue your own interests. It could be anything: pick up that book that's been gathering dust on the bedside table, join a singing group, or learn how to make jam. Whatever makes you feel good.
Stay connected and keep in contact with close friends and relatives.
Ask your partner for support. Share your feelings with them.
Arm yourself with information. Learn about anxiety and depression from resources like these:

For adults:
For children and adolescents:

Most importantly, remind yourself that looking after yourself is not a luxury. It's a necessity.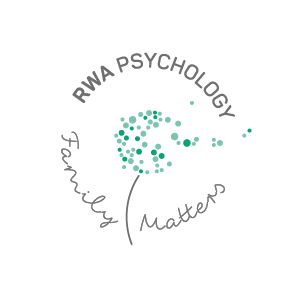 We've tailored the services at RWA Pyschology - Family Matters to all age groups from young children to adolescents and adults - and we have specialists in crisis, short/medium term counselling and longer term psychotherapy.
Call RWA psychology for an appointment with one of our psychologists.