A common problem we see parents faced with is knowing how much time their child should be spending on the computer.
Many parents are aware of the negative effects of too much screen time - a dependency on screens for entertainment, a culture of sitting and subsequently a higher risk of obesity, vision problems and sleep deprivation.
To know how much time your child should be spending online it's important to understand how much time your child currently spends in front a screen per day including mobile phone, computer, tablet, any hand held devices and TV. Most families are startled to discover that as early as primary school, some children spend up to and more than 14 hours a day in front of a screen. This timeframe is almost guaranteed to increase when they reach high school.
So, how much screen time is recommended for children?
Simply put, not much! Children under two should avoid screen altogether. Children aged 2-5 years should have no more than an hour a day but preferably less. And children aged 5-18 years should have no more than two hours a day. These timeframes exclude time spent using a device doing homework.
The more time children spend in front of a screen the less time they spend engaging in physical play, creative and imaginative play and anything that involves relationships or interactions with real people.
It's important to develop healthy screen habits early on. The following guidelines will assist you in this process:
keep TVs, phones, tablets and computers in family spaces and OUT OF THE BEDROOM
set screen time guidelines according to the ages of children in your family
be choosy about what your younger children watch or play on the computer, and taking an interest in what your older children are doing online
lead by example, limiting your own screen time
set house rules - what's okay to do and what's not, how much time is 'online' time and what kind of personal information is okay to make public
offer variety, making sure you have a range of activities and objects to entertain and stimulate your children, so they don't look to the screen so much
Turn the TV off before school and at dinnertime.
Talk to your child about staying safe as soon as they start becoming active in the online world, and keep the discussion open as they grow up to make the dialogue part of everyday parenting life
consider using filters or other technological tools to help limit exposure to potentially harmful or distressing material
find out what children are up to, create your own accounts and play with the services they are using so that you become familiar with the privacy settings and reporting mechanisms
*(Sourced from the Raising Children Network and Kids Matter (Rosalie O' Neale) websites)
Don't forget good parenting requires boundary setting, even for teens.
How can I find out more:
If you are experiencing difficulty managing your child's screen time, consider contacting RWA Psychology to seek professional help.
Additional resources:
Raising Children's Network
Kids Matter
iParent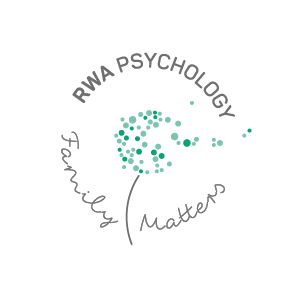 We've tailored the services at RWA Pyschology - Family Matters to all age groups from young children to adolescents and adults - and we have specialists in crisis, short/medium term counselling and longer term psychotherapy.
Call RWA psychology for an appointment with one of our psychologists.