Attention Deficit Hyperactivity Disorder (ADHD) is the most common neurobehavioural disorder amongst children. Yet it can be extremely difficult to understand exactly how children with ADHD process the world around them. The following statements are just a few ways in which they can think and feel:
"I enthusiastically start new, exciting tasks but find it extremely difficult to finish them."
"My head is full of information that I desperately want to organise but I feel too overwhelmed to even start"
"Even the simplest tasks I find difficult to follow through with"
"I always have five different thoughts rattling around in my mind, like five different people talking to me at once."
What really is ADHD?
ADHD is a medical condition where people have trouble focusing, sitting still and acting before they think. It can affect children's academic achievement, wellbeing and social interactions.
There are three different types of ADHD:
ADHD combined type = where children have difficulty concentrating, are restless and act without thinking.
ADHD inattentive type = where children have difficulty concentrating, being attentive, remembering instructions and completing tasks.
ADHD hyperactive/impulsive type = where children are restless, have difficulty slowing down and act without thinking.
While children with ADHD face difficulties academically and socially, research studies have shown that they can be highly creative, highly intuitive, kind and spend a long time doing activities they love. It is important that they are supported in order to complete everyday tasks to the best of their ability.
How can you support your child with ADHD?
Build consistent routines for your child
Keep rules simple and clear
Calmly give reminders about realistic behavioural expectations
Ensure that you have your child's full attention when you give instructions and only give one or two instructions at a time
Ask your child to repeat the instruction to ensure they understand
Praise and recognise your child when they are behaving appropriately
Implement a positive behaviour system in your home like a sticker chart
Ignore minor attention-seeking behaviour
Use logical and timely discipline for inappropriate behaviour
Set aside regular one-on-one time with your child to do an activity that they love
Navigating how to support a child with ADHD can be challenging. Contact us to talk through how a psychologist may be able to help support you with this.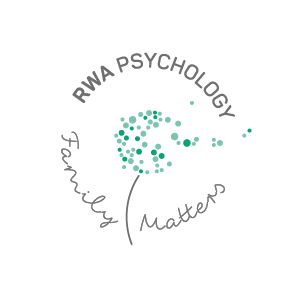 We've tailored the services at RWA Pyschology - Family Matters to all age groups from young children to adolescents and adults - and we have specialists in crisis, short/medium term counselling and longer term psychotherapy.
Call RWA psychology for an appointment with one of our psychologists.