For a number of years now I have come across stories from clients who talk about the relief they experience when they find a psychologist or doctor who is the right fit for them. Often they have told me about a sense of feeling understood and having trust in the treatment direction that is taking place.
For psychological treatment this has been an area closely examined by researchers over the past twenty years. Three very large and rigorous studies have concluded that the quality of the relationship between the therapist and the client have more positive influence on the outcome than the type of treatment that the therapist chooses to employ. (Martin et al, 2000; Shirk and Karver, 2003; Karver et al. 2006)
So what do these studies suggest you can you look out for in your first session with a psychologist to indicate that you will work well together?
The psychologist is able to form a good bond with you regardless of the differences that may exist between you.
The psychologist explains the treatment and its benefits in a way that appears to be logical and provides you with clarity.
The psychologist has a good sense of perceiving what is happening for you, communicates in a way where you feel understood,
In any subsequent sessions what can you look out for?
The psychologist collaborates with you.
The psychologist adapts if there is a stalling in your progress.
So to sum up, regardless of what modality your psychologist has training in (cbt, psychodynamic, interpersonal, etc.) it appears that the rapport established with a psychologist is just as important as their training, if not more so.
References
Karver M. S., Handelsman J. B., Fields S., Bickman L. (2006). Meta-analysis of therapeutic relationship variables in youth and family therapy: the evidence for different relationship variables in the child and adolescent treatment outcome literature. Clin. Psychol. Rev. 26, 50–65
Martin D. J., Garske J. P., Davis M. K. (2000). Relation of the therapeutic alliance with outcome and other variables: a meta-analytic review. J. Consult. Clin. Psychol. 68, 438–450
Shirk S. R., Karver M. (2003). Prediction of treatment outcome from relationship variables in child and adolescent therapy: a meta-analytic review. J. Consult. Clin. Psychol. 71, 452–464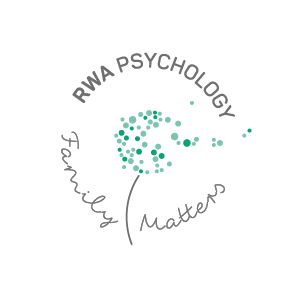 We've tailored the services at RWA Pyschology - Family Matters to all age groups from young children to adolescents and adults - and we have specialists in crisis, short/medium term counselling and longer term psychotherapy.
Call RWA psychology for an appointment with one of our psychologists.